Keep odor and dust out of your home with the innovative Litter-Garage solution. Your cat will have access to the litterbox from inside your home, while all scooping, cleaning, and refilling happens in the garage, carport, or screened porch. Easy installation!
Buy your Litter-Garage today!
The Litter-Garage system has 4 major components: Large cat flap, thru-the-wall chute, giant litter pan, and the metal drawerbox. The drawerbox has a screened window with fire damper and ball-bearing drawer tracks.
The metal drawerbox installs on the wall in your garage, carport, or screened porch. The chute connects the drawerbox to the cat flap mounted on an inside wall. Your cat goes through the flap to her litter pan and back safely with no escape. Scoop and clean the litter pan by opening the drawer-- no mess inside your house ever again!
Taking up a compact amount of space, the metal drawerbox is 24" wide, 17" high, and 17" deep. An additional 15" of clearance is needed to open the drawer and clean the litter pan. The cat flap opening is 7" by 7" which works for large cats up to 25 lbs.
Litter-Garage will work on any 2 x 3, 2 x 4, or 2 x 6 wall. If your wall is more than 7" thick, contact us for a deeper chute at no charge!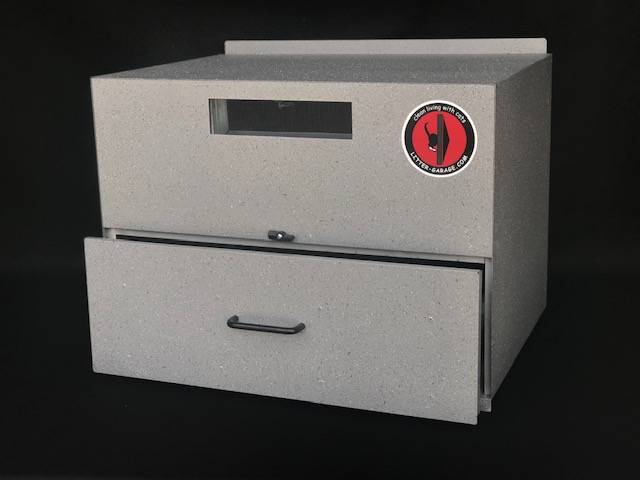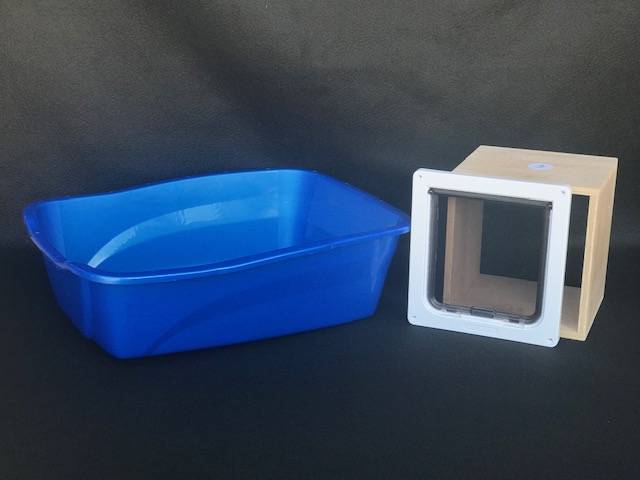 Litter-Garage is committed to clean living with cats! Eliminate all the problems with cat waste—odor, dust, issues with other pets, small children, and pregnancy concerns with toxoplasmosis. And it's built to last!
90 day money back guarantee with free return shipping
No litter box odor or dust inside your home
Keeps litter away from toddlers and other pets
Works for cats up to 25 lbs
Install in garage, screened porch, or carport—check local building code
Takes up no floor space in your home
No electrical power needed
Screened window and fire damper provides light and air to the box
Steel construction with Rust-Oleum stone finish
Ball-bearing tracks for smooth drawer operation
Easy installation for the DIYer
How to Install Litter-Garage
Litter-Garage can be installed by the "do-it-yourselfer" carefully following the provided instructions!
How to Install Litter-Garage
We have carefully crafted a step-by-step installation guide for you to install your Litter-Garage. We also provide customer service help by contacting us at (309) 828-9632 or sprague.supply@frontier.com.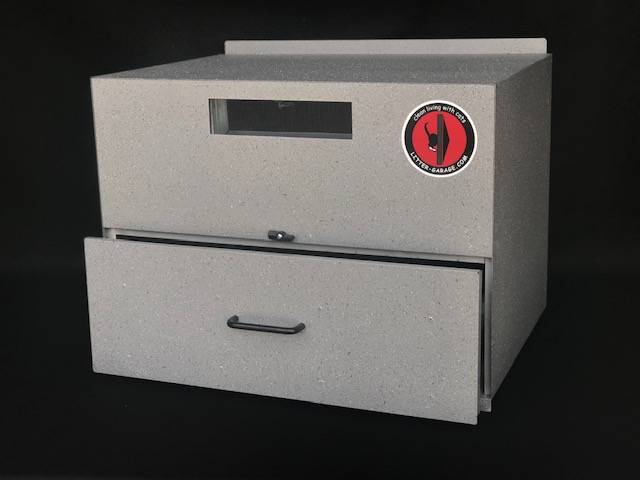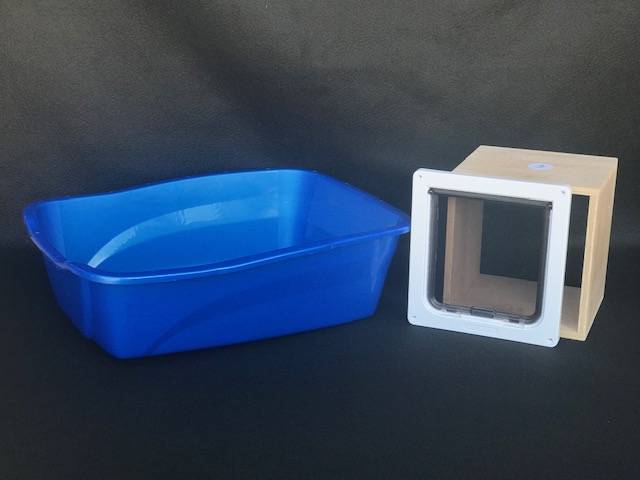 Their natural curiosity will lead most cats to use the Litter-Garage with no prompting. You may find the following suggestions helpful:
Prop open the cat flap for a few days.
Transfer some of your cat's existing litter to the new pan.
Place treats or catnip on the carpet pad in the chute, and gently encourage your cat to check it out.
Call to your cat from the window on the metal drawerbox and coax her to walk in.
Never force or push your cat through the cat flap.
90-Day Money-Back Guarantee
If for any reason you and your cat are not completely satisfied with Litter-Garage notify us within 90 days of purchase for a full refund. The return shipping will be prepaid. Please save your box and packaging materials for easier return.


Warranty
All parts are unconditionally warranted for 2 years from date of purchase.

Excellent product! We show everyone who comes to our house. We love this product!
Karen I.
"Fantastic solution to the unsightly cat litter box inthe house. Pure genius at work!"
Richard P.
"Love this product! Best investment for the home."
Cliff G.